Project information
The Minnesota Department of Transportation will be completing a resurfacing project on Highway 34, from Becker County Road 29 to west of Osage, County Road 26/47 (old MN225). This project is scheduled for construction in 2023.
In preparation for that project, MnDOT is partnering with the Minnesota Department of Natural Resources to complete selective logging within the state right of way on the south side of Highway 34 from west of Snellman to the Shell River. That work is tentatively scheduled to start in the fall/winter of 2022.
In the fall/winter of 2022, trees and vegetation will be cleared from the remaining portion of the future project, from County Road 29 to west of Snellman. All of this work will take place in the state highway right of way. Learn more about MnDOT's Integrated Roadside Vegetation Management Plan.
Project details
Highway 34 tree work
Full removal of all trees and vegetation 65 feet from both sides of the center of Highway 34 for Clear Zone purposes.
Project is 42 lane miles, 21 miles each direction. Selective logging to occur on less than 5 miles as areas of wetlands and residents are not logged. Selective logging equates to less than 12% of project lane miles, and less than 4% of the scenic byway lane miles. See exhibit below.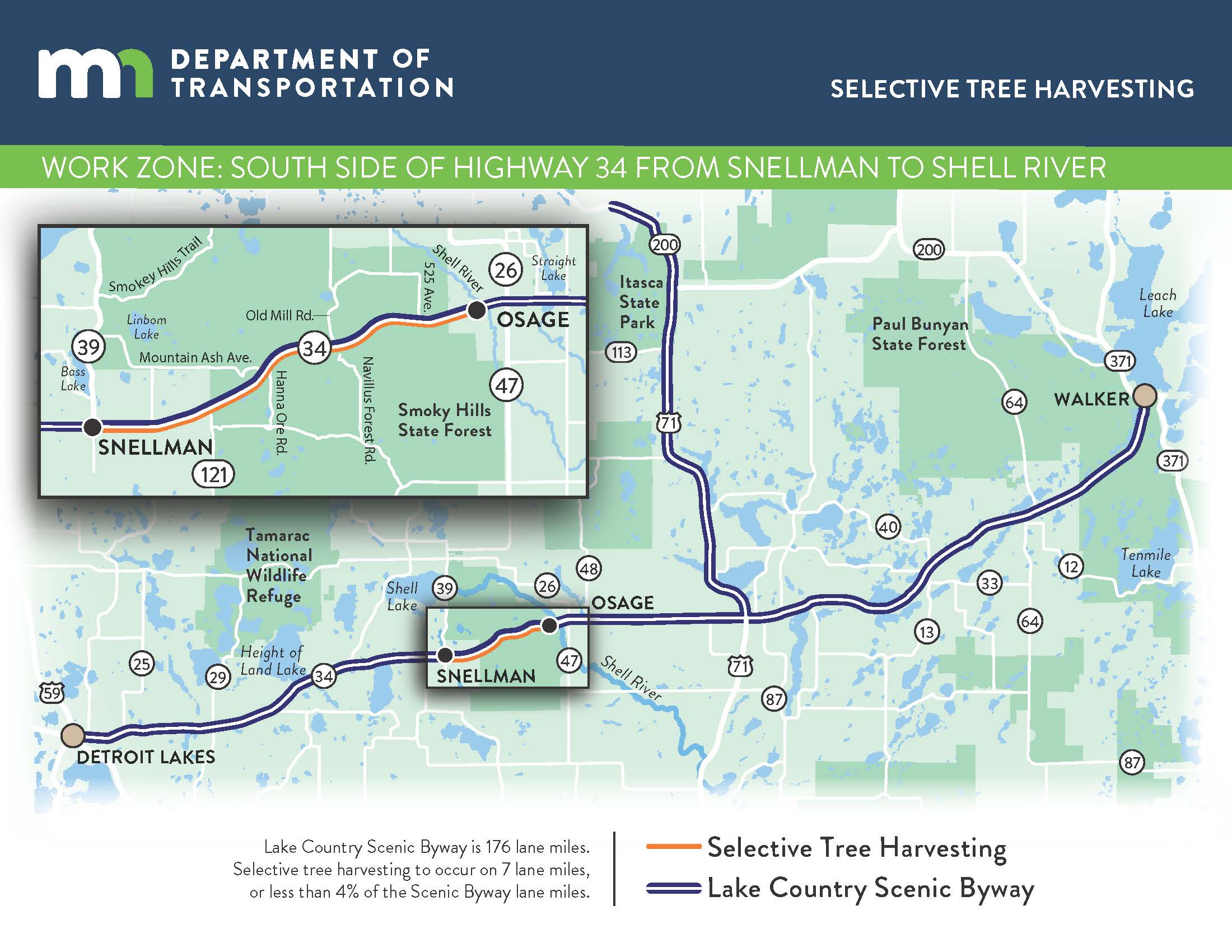 Link to the MnDOT Integrated Roadside Vegetation Management Plan
County 29 to Snellman (14 miles)
Pavement reclamation to improve ride condition
Culvert replacements
Tree removals within Clear Zone (65 feet from centerline)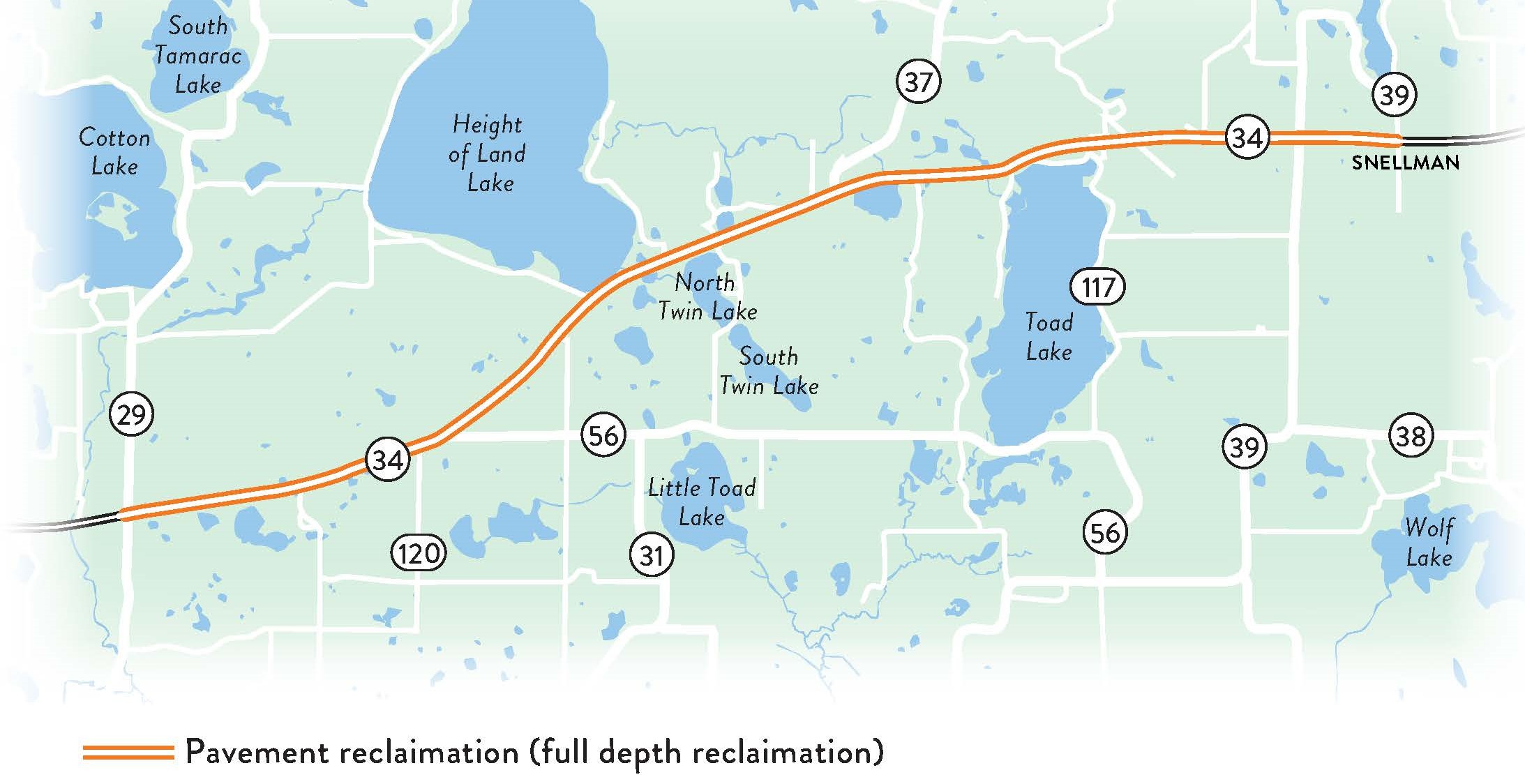 Snellman to County 47 (West of Osage) (7 miles)
Bridge/Box culvert and culvert replacements
Pavement reclamation to improve ride condition
Tree removals within clear zone (65 feet from centerline)
Selective Logging (beyond Clear Zone)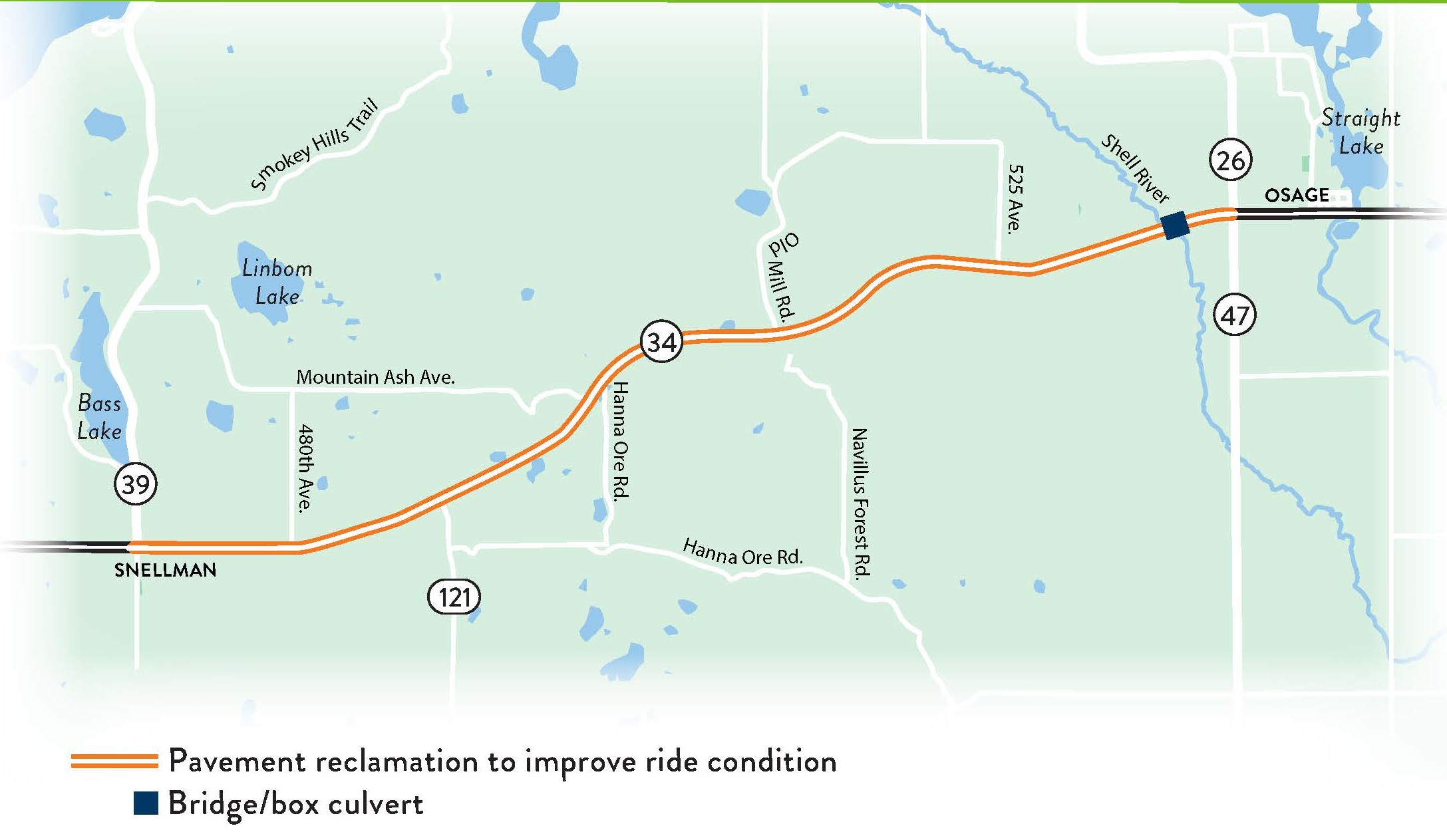 Future traffic impacts
During logging: shoulder closures, potential lane closures
During construction: will be detoured. Detour route to be determined
Project compromises
MnDOT's original plans were to remove 85% of trees as shown below. Through public engagement MnDOT has reduced the removals to 50%
Originally proposed was an 85% removal of trees with 15% of trees remaining out to 250' with unique DNR contract for minimal impact harvest
First compromise was a 75% removal of trees with 25% of trees remaining out to 150'
Final compromise is a 50% removal of trees with 50% of trees remaining out to 150'