Sign up for project email updates
About this project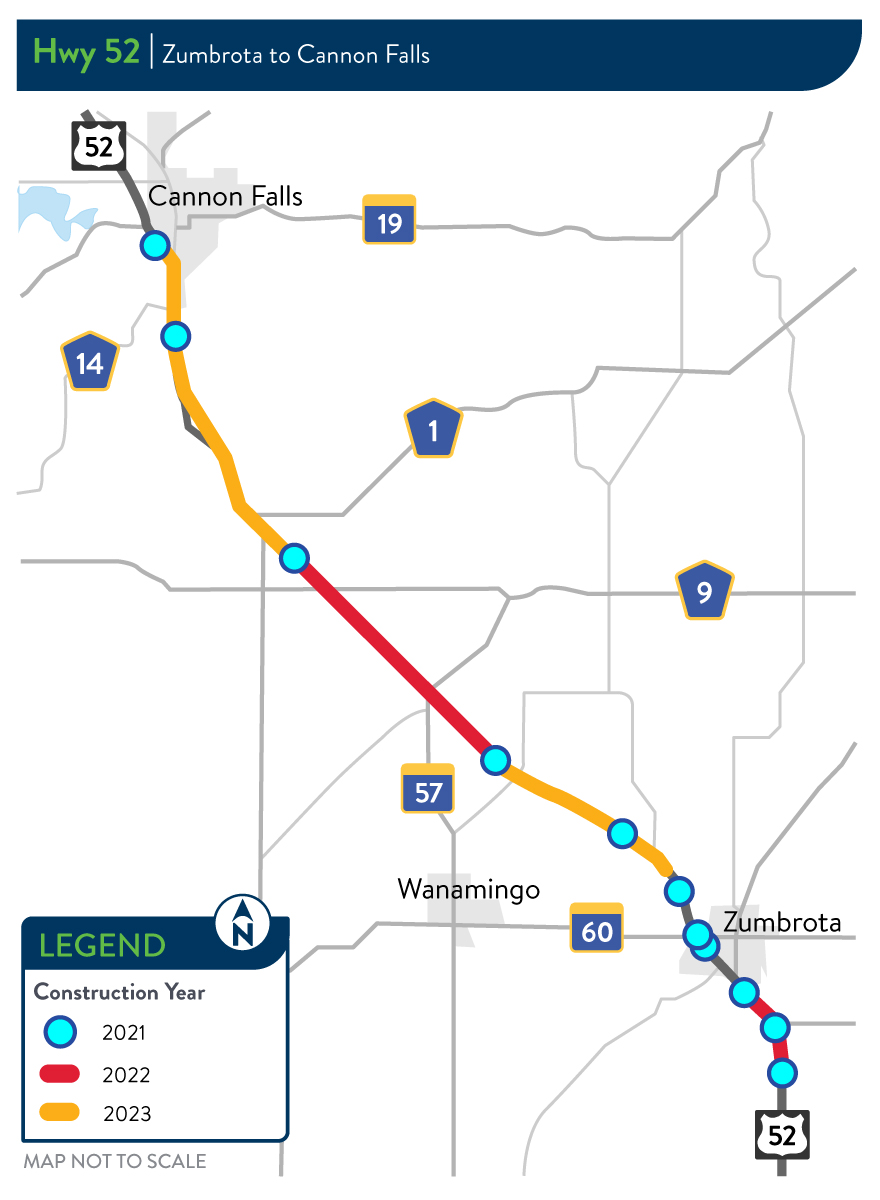 Summary of work
The most recent traffic changes and construction information can be found on the Updates page.
MnDOT's construction project along Hwy 52 between Zumbrota and Cannon Falls began July 5, 2021. Year two of construction began April 21, 2022. The project is expected to be completed in 2023.
The work includes the following:
This project will reconstruct the southbound Hwy 52 lanes beginning 2.2 miles south of Hwy 19 in Cannon Falls and proceeding south to 1.2 miles north of Goodhue Co. Rd. 7 with access control improvements.
The bridges at the junctions of Hwy 60 (west) and Hwy 60 (east) near Zumbrota will be replaced. As well as the replacement of the Hwy 52 southbound bridge and rehabilitating the Hwy 52 northbound bridge over the Zumbro River.
A new interchange will be constructed to replace the existing at-grade intersection at Hwy 52 and Hwy 57 / Goodhue Co. Rd. 8 (Hader interchange).
Permanent Township roadway access closures to Hwy 52 will occur in conjunction with the roadway restrictions. These closures are permanent to improve long term safety along Hwy 52 by reducing uncontrolled intersection access. These access closures include:

90th Ave.
100th Ave.
110th Ave.

Additional safety and access management measures will be implemented on the corridor including new frontage roads, reduced conflict intersections (RCIs) and construction of a new Goodhue Co. Rd. 14 connection on the north end of the project near Cannon Falls.
The construction schedule is on the Schedule page.
Construction impacts
Road closure and detours required.
Impacts to North Fork Zumbro River State Water Trail.
Impacts to resident, field and business access.
Bridge removal.
Vibration, noise and night work.
Utility work.
More construction projects are scheduled on the Hwy 52 corridor between Rochester and St. Paul through 2024.