Milaca community invited to vote on Highway 23 potential solutions
ST. CLOUD, Minn. – Those who drive, walk, ride, visit or do business on Highway 23 in Milaca are invited take a survey and provide us feedback on potential access and safety improvements along the corridor. A survey and presentation are available online through Sep. 20, 2021 at Milaca.
In spring, MnDOT, Mille Lacs County and the City of Milaca launched a study to look at ways to improve traffic flow, safety and multi-modal use on Highway 23 from the Rum River Bridge to 105th Avenue/County Road 2 in Milaca. A survey was conducted to get initial feedback on needs for the highway where we received insight from more than 1,100 participants.
This new survey provides an opportunity to vote and comment on potential solutions for these intersections along Highway 23:
Third Avenue SW

Central Avenue

Second Street

First Street E

Both Hwy 169 ramps

105th Avenue

110th Avenue
To learn more about the Highway 23 Milaca project, including a presentation about the results of the first survey and possible solutions, visit mndot.gov. For questions about the study, contact Zach Whitley, MnDOT Project Manager, Zachary.Whitley@state.mn.us or call 320-293-9411.
The study will be complete in late 2021 and is focused on safety and mobility for all modes of travel.
MnDOT invites and encourages participation by all. If you need an ASL, a foreign language interpreter, or other reasonable accommodation to take the survey, or need it an alternative format, please email your request at ADArequest.dot@state.mn.us or call 651-366-4720.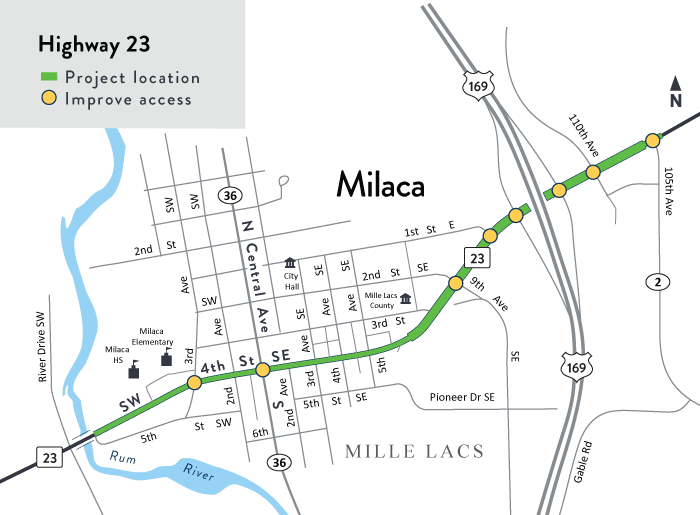 # # #