Specialty and competitive programs
Historic properties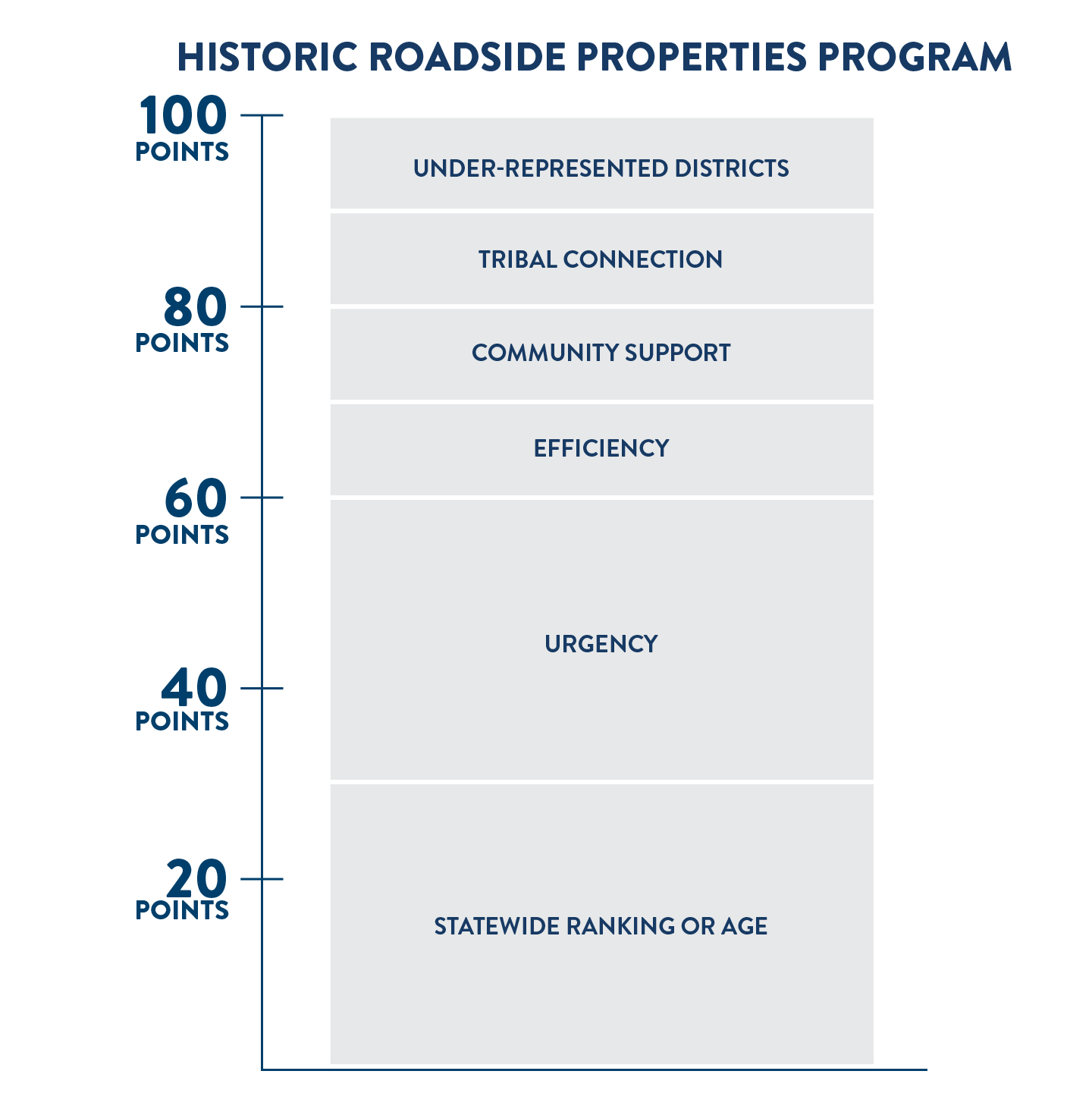 The Historic Roadside Properties Program funds the repair, rehabilitation and preservation of roadside properties that are either listed on, or eligible for, the National Register of Historic Places.
Projects were identified by a series of cultural resources studies of historic roadside development properties conducted in 1996-1998 by Gemini Research for MnDOT. A supplement released in updated on 2005 with amendments in 2006 and 2009. Newer properties up to 1975 construction was completed in 2016 by Stark/Deco. A new study which combines all previous reports and update selected sites is underway in 2019.
The studies identified 243 MnDOT properties, of which 56 are either listed on, or eligible for, the National Register of Historic Places.
In addition to the scoring criteria, other factors are also considered in selecting historic property rehabilitation and repair projects. For example:
It is not unusual for historic structures located close to the roadway to be struck by vehicles. In these cases, the historic property will be repaired as soon as possible under program guidelines.
Occasionally a property will be found to be deteriorating at a faster rate than anticipated and repairs must be accelerated in order to avoid losing the structure.
Local Government agencies or individuals will request that a structure located close to their municipality be restored.
What's been selected?
Related links
How the projects scored
The construction costs shown on this list represent a very rough estimate based on limited information available at the time selection decisions were made. Actual construction and delivery costs will change over time as projects go from a concept through the project development process and are eventually constructed. View more detailed scores (Excel).
Last updated December 2021
| Score | Site Name | Project Construction Year |  Planning Level Project Estimate  | Comments |
| --- | --- | --- | --- | --- |
| 90 | MN 301 at St Cloud Reformatory | 2022 | $2,600,000 | Coordination with district roadwork |
| 90 | Oak Lake | 2023 | $850,000 | Newly eligible, coordinating with district, ADA work |
| 80 | Whipholt- small project | 2023 | $30,000 | Interpretation incomplete |
| 70 | Birch Coulee Historical Marker | 2026 | $350,000 | |
| 70 | Graeser Park, Phase 3 | 2023 | $250,000 | Prior to conveyance |
| 70 | Otter Tail Lake | 2024 | $350,000 | Coord projects 6, 12, 18, 33 |
| 70 | HEWITT RPA | 2027 | $600,000 | Class II |
| 70 | Maiden Rock HM-Lake Pepin Rest Area (Class 1) | 2026 | $250,000 | Community concern |
| 62 | Lilac/Mtka Blvd/Rock Island | 2021, 2022>Burns | $50,000 | |
| 58 | St. Cloud Historical Marker | 2022 | $50,000 | Interpretive signage |
| 55 | New Ulm Spring | 2021>2022 | $900,000 | Let in FY22 |
| 55 | Pelican Rapids Village Historical Marker | 2024 | $350,000 | Coord projects 6, 12, 18, 33 |
| 52 | St. Paul Overlook [Burns Ave] | 2022>Lilac | $50,000 | Gate closer |
| 50 | Cascade River Wayside-Mortar Testing | 2022 | $75,000 | |
| 50 | Cascade River Wayside-Rehabilitation | 2025 | $750,000 | |
| 50 | Otter Tail City Historical Marker | 2024 | $350,000 | Coord projects 6, 12, 18, 33 |
| 50 | Garrison Concourse | 2026 | $600,000 | |
| 49 | Willow Lake | 2023 | $250,000 | Curb and changing house |
| 49 | Orr Roadside Parking Area | 2025 | $300,000 | |
| 48 | Inspiration Point (Lanesboro) | 2027 | $400,000 | |
| 41 | Split Rock Lighthouse Overlook | 2025 | $250,000 | |
| 33 | Craigie Flour Mill | 2024 | $250,000 | Coord projects 6, 12, 18, 33 |
Previous years