What is the Adopt a Highway Program?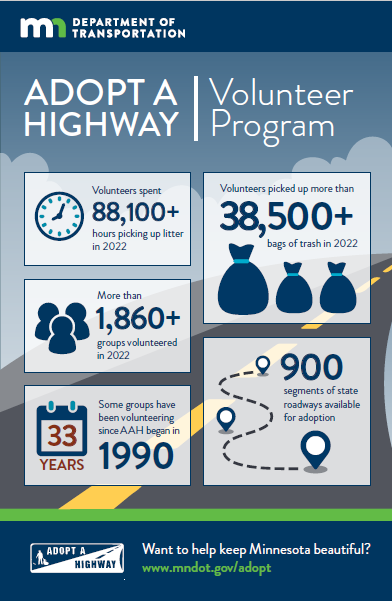 The public can volunteer and participate in Adopt a Highway to pick up litter along Minnesota's state highways.
Adopt a Highway also enables residents who are environmentally conscious to make a personal contribution to a cleaner environment.
How does it work?
Community groups, churches, individuals or businesses adopt a highway by picking up litter on both sides of a road at least two times per year for at least two years.
Benefits of volunteering
Keeps roadsides beautiful and free of litter
Public service project for groups and families
Shows that Minnesotans care about their state
Saves taxpayers money
Volunteer options
Adopt a Highway or Rest Area: Volunteers sign agreement with MnDOT to adopt a section of state highway or designated rest area and commit to pick up litter at least twice a year.
Pick a Highway: Pick a Highway is a one-time litter picking activity on an assigned segment of state highway.
MnDOT will provide bags, approved safety vests, training and bag retrieval. You contribute approximately four hours of labor. Contact an Adopt a Highway coordinator for details.