Corridor study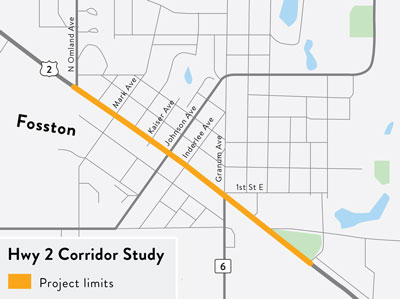 The City of Fosston conducted a corridor study to evaluate the transportation and pedestrian needs of Highway 2 in Fosston. The locally led study identified community concerns, and considered possible alternatives that could better suit business owners, motorists and pedestrians together.
Results of the study
The study found a community supported solution to reconstruct the highway from a four-lane to three-lane section, which will serve as a long-term implementation tool for both the City of Fosston and MnDOT.
Benefits
Reduces overall traffic speeds through Fosston
Creates a strong buffer between pedestrians and motorists
Improves parking downtown
Wider and safer sidewalks
Provides left and right turn lanes which prevent rear end collisions and reduce traffic weaving
Will create consistent traffic speeds with minimal lane changes
Reduces blindspots for motorists and pedestrians
Curb extensions will make pedestrians more visible and shortens crossing distances
Does not require a center median at school crossing
Increases opportunities for aesthetic enhancements
Priorities
Along with community input, the following priorities were developed by the community panel to guide the study:
Reduce frequency of traffic speeding
Improve pedestrian safety
Reduce traffic confusion and potential crashes at intersections
Provide wider and safer parking options along street
Accommodate truck traffic to industrial park and grain elevator
Make sidewalks more inviting for pedestrians
Ensure low maintenance
Improve aesthetics
Alternatives considered
Three-lane option
This option had very few unresolved priorities.
Curb extensions and landscape will require more maintenance
Curb extensions will be more difficult for truck traffic to maneuver
Four-lane option
This option resulted in a number of unresolved priorities.
Little effect on traffic speeds
Does not improve parking
Requires refuge island at school crossing
Minimal improvements to pedestrian safety
Minimal reduction in crash risks:

Does not eliminate blind spots
Additional lane changes increase risk of collision
No turn lanes
Variable speeds
Hybrid option
This option was developed with the idea that the four-lane might be better suited for truck traffic west of Kaiser Aven and the three-lane would be better for the area east of Kaiser. Further analysis found that this was not the case, and it was scrapped as an option.
Community review panel
In order to work more closely with local leaders, residents and business owners, project staff worked directly with a community review panel throughout the study. This partnership allowed for a direct connection to the community through a transparent and collaborative process. The committee helped identify the current issues and create a local vision for the corridor. These neighborhood leaders ensured that community values were represented in the development and evaluation of project alternatives, while fostering conversations within the community.
This committee consisted of a diverse cross-section of community representatives that studied the project details in depth and helped define a vision for the corridor.
Along with learning more about traffic safety/engineering concepts, they:

Took an in-depth look at the current issue's
Prioritized community needs and preferences
Developed and researched possible solutions
Cultivated and represented community members input
Evaluated and prioritized preferred alternatives
Partnership
MnDOT and its partners have committed to work with the City of Fosston to ensure that the community's concerns and aspirations are directly reflected in the alternatives developed as part of the Highway 2 Study and to provide feedback on how the community influenced recommendations and decisions.