About this project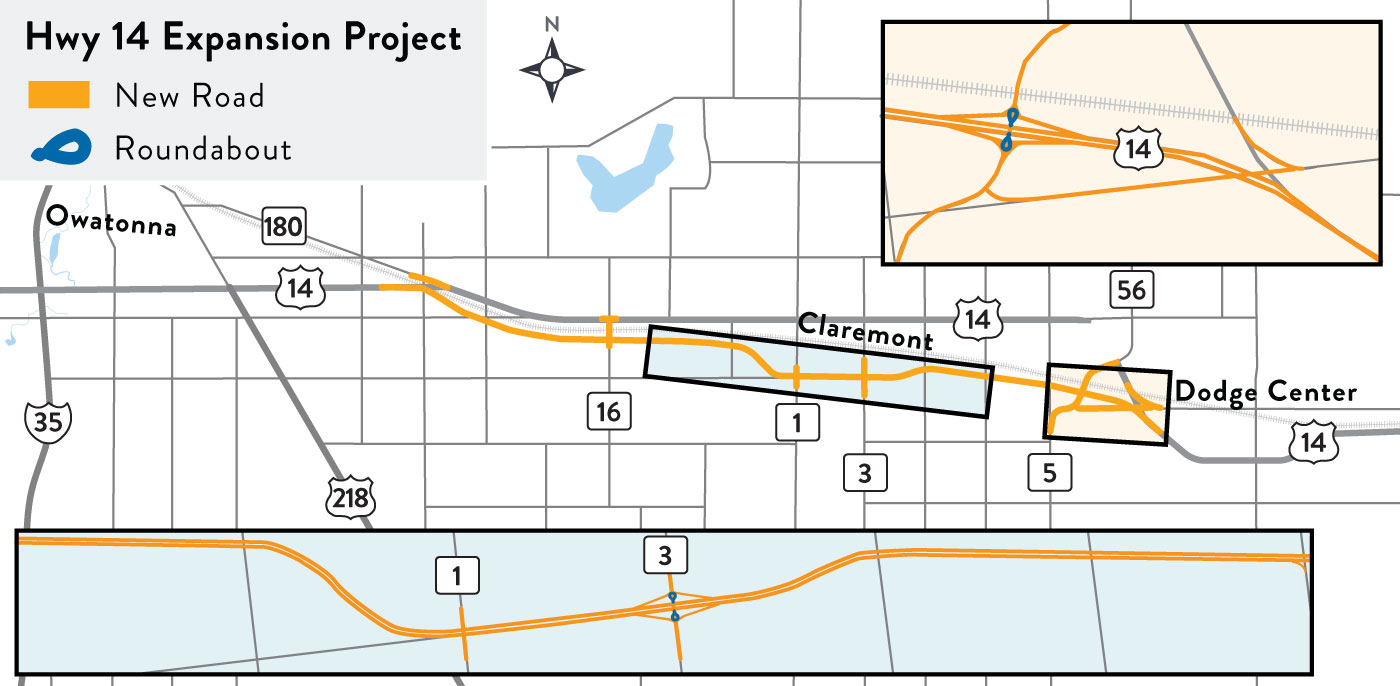 Updates
Temporary intersection closure at old Hwy 14 and Steele Co. Rd. 2 begins June 9
Motorists will encounter a temporary intersection closure at old Hwy 14 and Steele Co. Rd. 2 (formerly called Steele Co. Rd. 180) beginning June 9, 2022 as crews construct a new connection between the existing roads.
The closure is between Steele Co. Rd. 43 and SE 64th Ave. at the existing intersection of old Hwy 14 (Steele Co. Rd. 2) and old Steele Co. Rd. 180/SE 54th Ave. This is located on the north side of the railroad tracks and is scheduled to reopen mid to late July, weather permitting.
Detour
Detour signs will route traffic on Steele Co. Rd. 2 to use Steele Co. Rd. 71/Dodge Co. Rd. G between Steele Co. Rd. 43 and Dodge Co. Rd. 1.  Truck traffic traveling to Al-Corn Clean Fuel in Claremont should stay on the new Hwy 14 and exit at the Dodge Co. Rd. 3 interchange and travel north to old Hwy 14 to access Al-Corn Clean Fuel.
Contact
Please contact Justin Bren with Shafer construction if you have questions about access to your property or destination at 763-245-9007.
Temporary Hwy 14 lane closures during 2022 summer
Motorists along Hwy 14 in Dodge and Steele counties will encounter lane closures along the new stretch of highway as construction crews do shoulder work and remove median crossover lanes and other work from May 10 through early summer.
Temporary right-lane closures are ongoing to complete shoulder work at both ends of the Highway 14 expansion project. Once that work is completed, temporary left-lane closures will begin to complete crossover removal at both ends of the project. There will be intermittent lane closures through summer.
Open to traffic on November 9, 2021
The new Highway 14 route opened to traffic on November 9, 2021.
On October 18, Steele Co. Rd. 16, west of Claremont, re-opened. Access to SE 64th Ave. closed permanently. The new access route is from SE 44th Ave. (Steele Co. Rd. 43) to SE 28th St, which intersects with SE 64th Ave.
The remaining construction is scheduled to be completed in July 2022.
Summary of Work
The project expands 12.5 miles of Hwy 14 from two lanes to four lanes between Dodge Center and Owatonna to complete a continuous four-lane road between Mankato and Rochester. The project improves the capacity, safety, travel times, and access between Rochester and Owatonna, as well as the I-35 corridor. The expansion area is a new route for Hwy 14, which stays south of the railroad tracks on the west side of the project, travels south of Claremont and connects where the four-lane highway is west of Dodge Center.
Shafer Contracting of Shafer, Minnesota is the prime contractor for the $107,997,119 construction project.