About this project
Update
Phase 2 work of the Hwy 30 reconstruction project in Rushford begins on the west end during the week of July 11. The work zone is from W Stevens Ave. to western city limits and it will be closed to thru traffic. Work is schedule to be complete late October.
Questions about property access can be directed to Jayme LaPlante with Dunn Blacktop at 507-577-1800.
Phase 1 work in the downtown area will continue during this time and it is anticipated this area will be complete in August.
Summary of work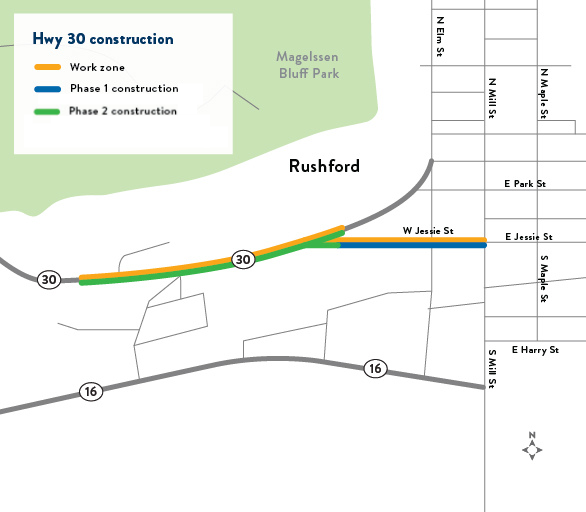 In 2022, 0.55 miles of Hwy 30 will be reconstructed from the west side of Rushford to Hwy 43. Construction is scheduled from May 9 to late October.
Work includes the following:
Reconstructing Hwy 30 from western city limits to Hwy 43 (Mill St.), including curb and gutter.
Replacing existing sidewalk and extending sidewalk west to Southview Ct.
Replacing storm sewer pipe and structures.
Improving downtown lighting.
Reconstructing city sanitary sewer, water main, and services.
The project is being split into two construction phases.
Phase 1: Downtown/east end

Work zone: Mill St./Hwy 43 to W Stevens Ave.
Planned schedule: May 9 to August 2022

Phase 2: Residential/west end

Work zone: W Stevens Ave. to western city limits
Planned schedule: Week of July 11 to late October 2022