Sign up for project email updates
About this project
Update
In 2022, MnDOT will repave and replace culverts on Hwy 43 from Rushford to Mabel. This project was a flex project, meaning construction could have begun as early as 2022 or move to 2023. The funding was secured and construction is scheduled from May 23 to mid-October 2022.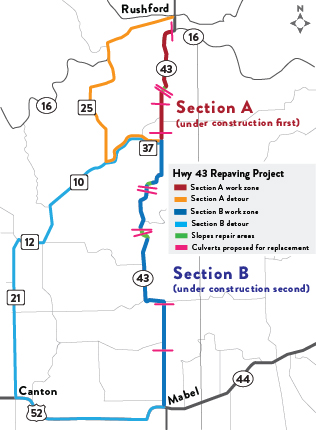 Summary of work
Repave 22 miles of Hwy 43
Stabilize three areas of eroding slopes and shoulders
Replace all guardrail
Replace 11 centerline drainage pipes
Repair 55 centerline drainage pipes
Additional details
This project will address the erosion along the hillsides and near the roadway. Three areas have been identified where work will be done to stabilize the slopes and maximize the roadway width as much as possible. This section of Hwy 43 is an extremely rugged area and poses many engineering challenges, especially in balancing the needs of the highway and impacting private property.
This is a pavement preservation project, so there is not enough funding to change the geometrics or remove sharp curves. However, MnDOT will repair several locations where the shoulder/road needs repair or reinforcing adjacent to ravines. Work will improve and stabilize the shoulders, and where there is width available, increase usable shoulder widths of 2 to 4 feet. Due to the steep slopes, there will still be areas where the roadway shoulder width will be minimal and the guardrail will be near the edge of the 12-foot travel lane. All guardrail will be replaced.