This webpage is not updated over the weekend/overnight. For up-to-date information on traffic impacts, visit 511mn.org.
Traffic impacts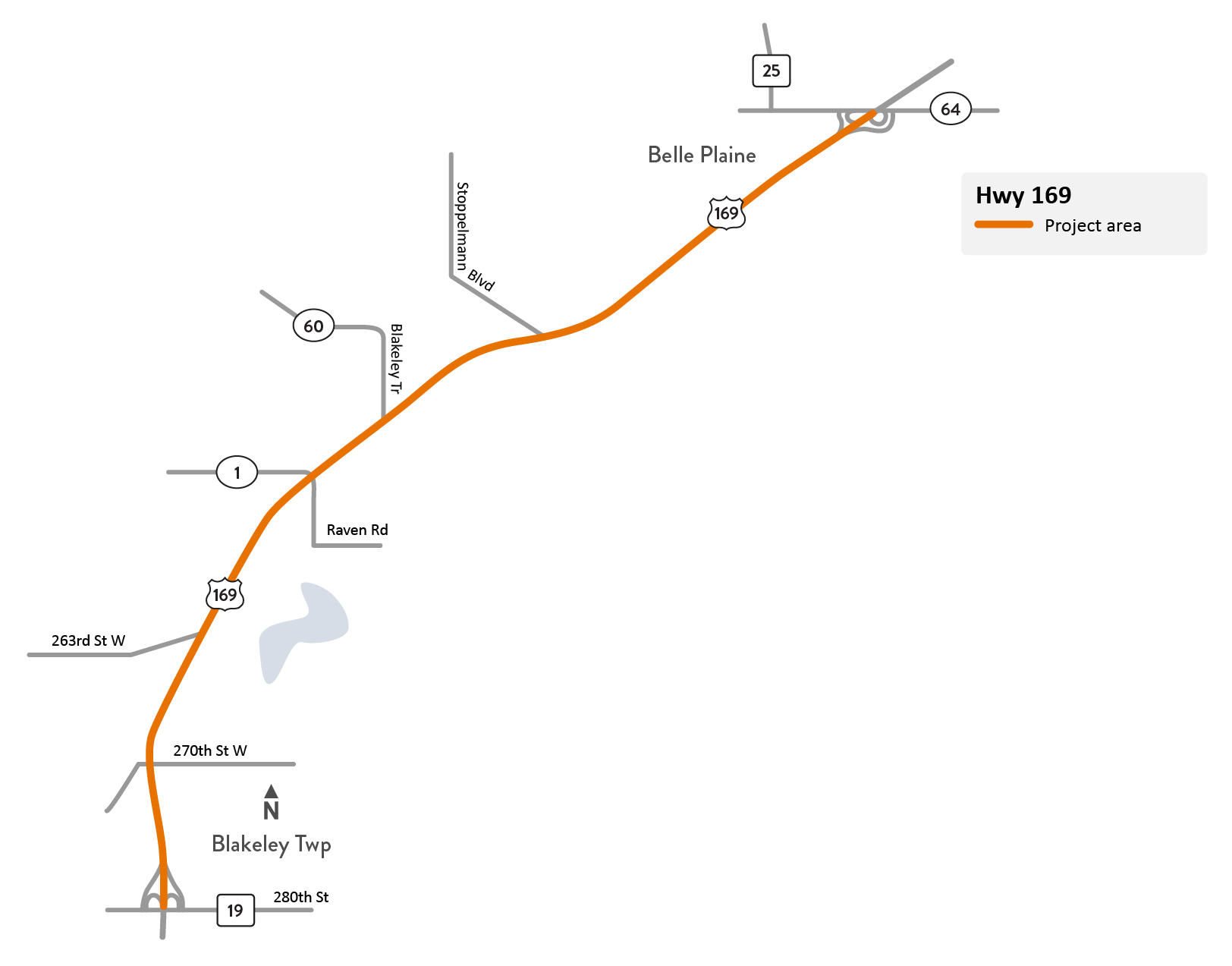 All traffic impacts are tentative and weather dependent. Access to businesses and residences will be maintained at all times.
Upcoming
Information about upcoming traffic impacts will be posted as details become available. Traffic impacts include lane closures on Hwy 169 and road closures with detours.
About this project
Crews will make safety improvements to Hwy 169 from Hwy 25 in Belle Plaine to Hwy 19 in Blakeley Township. The project will modify certain intersections and install a cable median barrier to improve the safety of the corridor.
Summary of work
Install cable median barrier in center median to help prevent the most serious and fatal head-on crossover crashes, reducing crossover head-on crashes by up to 95%
Removal of redundant center medians
Drainage improvements
Construct J-turns (Reduced Conflict Intersections) and center medians to help prevent high-risk crossing movements and left turns onto Hwy 169 from a local road or driveway. J-turns reduce serious and fatal crashes by 70% and overall crashes by 42%
Signs, lights, and drainage outlets will provide 35 feet of clearance for the turning of wide vehicles at all intersections. Right turn lanes will be extended in length when possible to accommodate larger vehicles.
J-turn to NB Hwy 169
6-foot gravel shoulder for wide vehicles
Left turn directly onto Belle Plaine Trail
Storm sewer
J-turn to SB Hwy 169
Extra-wide paved turning space for large vehicles and equipment
6-foot gravel shoulder for wide vehicles
Storm sewer
Drivers can take a right-in from Hwy 169 to German Rd.; right-out from German Rd. to Hwy 169; and a left-in from SB Hwy 169 to German Rd.
J-turn to NB Hwy 169
6-foot gravel shoulder for wide vehicles
Extra-wide paved turning space for large vehicles and equipment
J-turn to NB Hwy 169
6-foot gravel shoulder for wide vehicles
Extra-wide paved turning space for large vehicles and equipment
J-turn to SB Hwy 169
6-foot gravel shoulder for wide vehicles
Extra-wide paved turning space for large vehicles and equipment
J-turn to NB Hwy 169
6-foot gravel shoulder for wide vehicles
Extra-wide paved turning space for large vehicles and equipment
J-turn to SB Hwy 169
6-foot gravel shoulder for wide vehicles
Extra-wide paved turning space for large vehicles and equipment
Storm sewer
J-turn to NB Hwy 169
6-foot gravel shoulder for wide vehicles
Extra-wide paved turning space for large vehicles and equipment
Storm sewer
J-turn to SB Hwy 169
6-foot gravel shoulder for wide vehicles
Left turn directly onto 263rd St.
Storm sewer
J-turn to NB Hwy 169
6-foot gravel shoulder for wide vehicles
Extra-wide paved turning space for large vehicles and equipment
J-turn to SB Hwy 169
6-foot gravel shoulder for wide vehicles
Extra-wide paved turning space for large vehicles and equipment
Storm sewer