About this project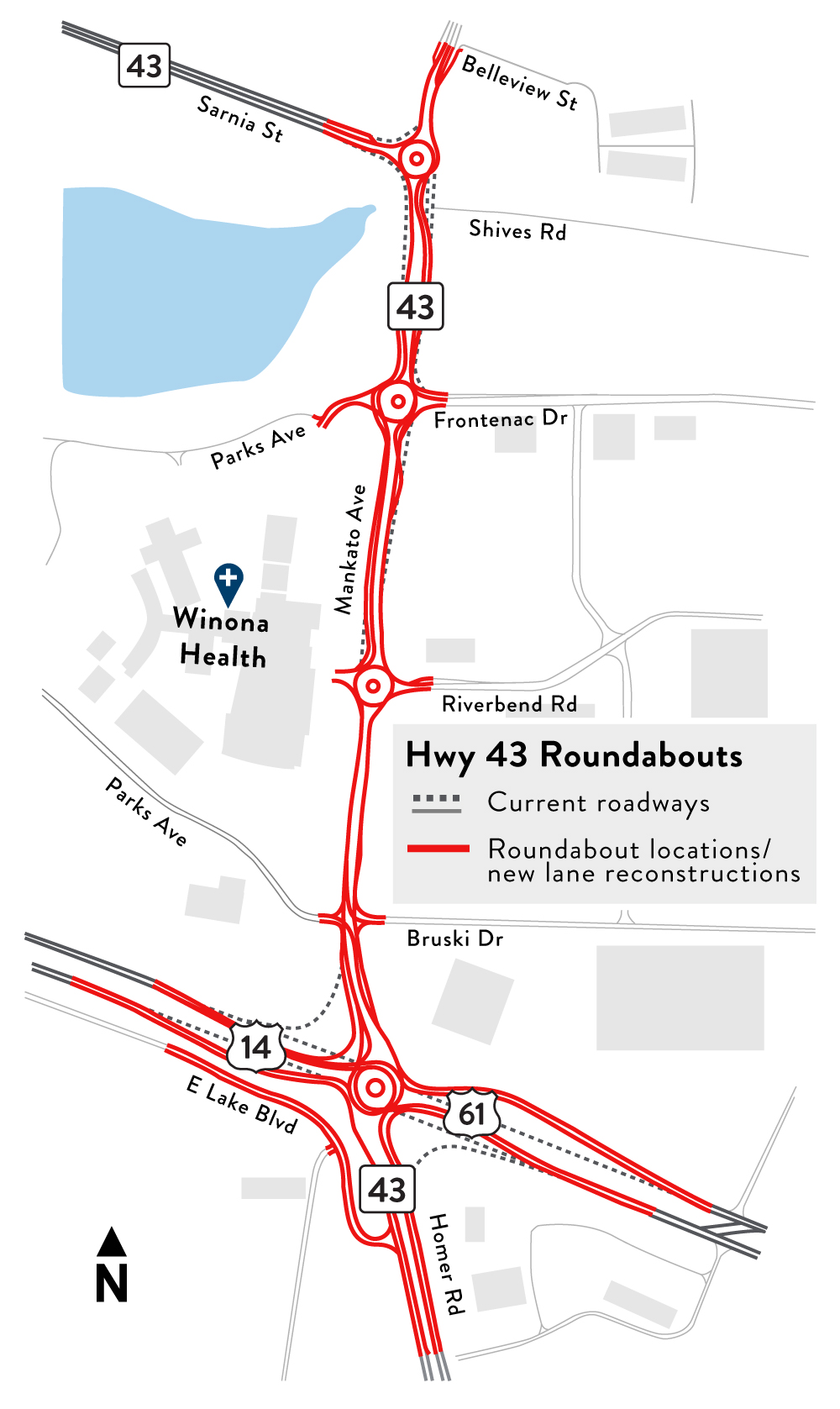 Newer traffic impacts
Beginning Friday, July 29:
Expect significant traffic delays on Hwy 61 as crews prepare to open the Hwy 61/43 roundabout on Monday, Aug. 1

Single-lane traffic will be required on Hwy 61 and Hwy 43 approaching the intersection.

Pavement markings (directional arrows, crosswalk bars) will be placed.
East Lake Blvd will open, connecting with Sugar Loaf Road, and Hwy 43. This will occur on Monday, Aug. 1 as the roundabout opens.
Additional work requiring lane closures on Hwy 61 and in the roundabout will be occurring through the week of Aug. 1 as construction crews continue to connect the road and the roundabout with paving. Please stay alert and aware of road crews.
Want to know more about roundabouts?
Pedestrian safety at roundabouts
Watch this video for tips and how pedestrian crossings and traffic work.
Additional resources
Below are additional resources that explain roundabout benefits and tips to navigate them safely.
What can you do during the traffic impacts?
If you can take an alternate route or adjust your travel time, you may be able to avoid the lengthy traffic backups on Hwy 61 during this transition.
Zipper merge can help. The signs that alert you to take turns at the merge point can help traffic flow better and more safely. Take turns at the merge points. Watch out for your fellow motorists. You can learn more about zipper merge on this link.
Other traffic impacts that continue to occur:
Temporary traffic signals are in place at Hwy 61, Hwy 43, Riverbend Road and Frontenac Drive. Expect traffic delays through the work zone.
Left turns from either direction on Hwy 43/Mankato Avenue are only allowed at the traffic signal at Frontenac Drive.
Access to destinations on the Winona Health side of the road can be done at Frontenac, when making a left turn or use Hwy 61 and access those destinations via Parks Avenue.
Access to East Lake Blvd. near the corner of Hwy 43/61 closed Monday, May 16. There is no through traffic on East Lake Blvd. Follow the detour routes below:
Use Huff Street at Hwy 61 to reach residences, businesses and destinations along East Lake Blvd. (detour map). Use Sugar Loaf Rd. at Hwy 43 to reach residences, businesses and destinations along Sugar Loaf Rd. (detour map).

Crews will only close one side street at a time, leaving the remaining two streets open to allow access to destinations. There will intermittent closures at these access roads. As they complete one, they will open it and move on to the next.
Summary of work
Reconstruction of Hwy 43/Mankato Ave. from Sugar Loaf View to Belleview St. began on April 11 and is scheduled to continue until early November 2022. This includes adding roundabouts at the following intersections: Hwy 61, Riverbend Rd., Frontenac Dr., and Sarnia St. Portions of Sarnia St. will also be reconstructed. You can learn more about roundabouts and how to navigate them here.
Stay informed about construction work
Reasons for reconstruction
MnDOT is reconstructing this stretch of Hwy 43 to improve safety and decrease congestion. Thousands of residents, commuters and business owners rely on the 3/4 mile stretch of Hwy 43/Mankato Ave. between Sugar Loaf View and Bellview St. in Winona each day.
This stretch of road needs to be improved. There have been 120 crashes at the Hwy 61 and Hwy 43 intersection over the past 10 years which is the second-highest crash rate for any stretch in southeast Minnesota. People traveling on this road also experience longer-than-average delays and traffic back-ups during rush hour. Meanwhile, pedestrians and bicyclists have a difficult time crossing the road.
Stages of construction
Stages are tentative and may change depending on availability of materials.
Create one lane of traffic in each direction on Hwy 61. There will also be some work on the north side of Sarnia St.
Reconstruct a significant portion of the Hwy 61/Hwy 43 intersection as well as the eastbound lanes on Hwy 61, East Lake Blvd., the west side of Mankato Ave. from Sugar Loaf View to Frontenac Dr. and the east side of Mankato Ave. from Frontenac Dr. to Belleview St.
Work adjacent to the main roadways and a portion of the box culvert replacement located just south of Sarnia St. at Gilmore Creek
Reconstruct the east side of Mankato Ave. from Sugar Loaf View to Frontenac Dr., the west side of Mankato Ave. from Frontenac Dr. to Belleview St. and the south side of Sarnia St.
Minor work along the highways including median treatments and roundabout center island landscaping.
In addition, final minor construction will take taking place in the spring of 2023.